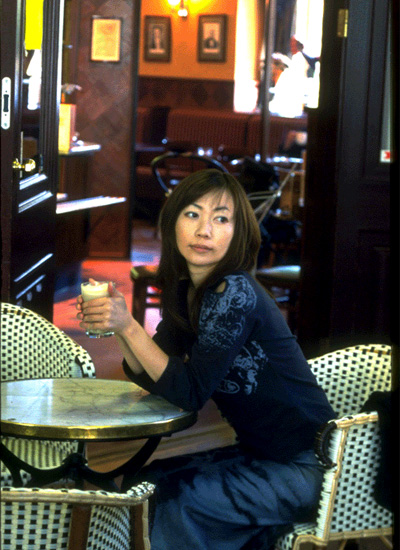 Emi Fujita
Born on the 15th of May
Blood Type: A
From Tokyo
Represented by Himawari Theatre Group Inc, Emi Fujita acted in dramas when she was a child.
She performed as one of the 'Himawari Kitties' for the song 'Polka for Garndpa & His Children' sang by Bokuzen Hidari.
When she was a Junior High School student, she debuted as an Enka Singer,released a record followed by a concert touring the whole of Japan.
Since then, she stopped activities as a musician and an actress. When She was in her second year in High School, she was attracted to Bluegrass and Country, which inspired her to resume her music activities.
Emi Fujita was spotted and recruited at a live house, and debuted as a singer for the group Le Couple in 1994.
The distinctive and pure vocals of Emi Fujita made the song 'Hidamari no Uta' (which was part of the soundtrack for the Japanese TV drama series 'Under One Roof 2') a sensational hit for Le Couple. The CD single sold over 1.8 million copies in 1997. She performed in NHK Red and White Year-End Song Festival.
Emi Fujita started her solo activities in 2001.
In November 2001, an album 'Camomile', a cover of popular western songs, was released.
In 2002, this album had a great hit with the popular acclaim as 'The Sound Medicine' in Asia.
'Camomile' received Platinum Disc and Golden Disc Awards in Hong Kong, Taiwan, Singapore and Malaysia.
In 2004 October, Emi Fujita had a SOLD-OUT concert in Singapore at the Esplanade Concert Hall.
In 2005, Le Couple ceased their musical activities.
'Camomile Blend', 'Camomile Clasics' and all of the series achieved the No.1 ranking in Asian countries.
In November 2007, the Best Album, a collection of the best songs from three of her 'Camomile' series, was released.
It is currently one of the best selling CDs for its excellent sound quality.
Her music activities includes a composition of the school song for 'Sakura Primary School' in Island of Izu Oshima as well as release of 'Niji no Hashi' and 'Kokoro no Kagayaki'.
Recently, she has conducted a concert titled 'Music Festival - Barrier Free for the Mind' with Kuniy who is a sign language vocalist of the sign language band, 'Kokoro Oto', in various parts of Japan. The theme of this concert was: Let's unite with the music and sign language.
In September 2008, Emi Fujita released a traditional Japanese music collection 'Kokoro no Shokutaku - Okaeri Itoshiki Utatachi'.
Albums

camomile (2001/10/21)
camomile blend (2003/10/1)
Rembrandt Sky / Emi with MKB (2005/11/21)
camomile classics (2006/11/15)
camomile Best Audio (2007/11/21)
Kokoro no Shokutaku (2008/ 9/17)
Single

Yumemiru Asa (2001/10/17)
Kageboushi / Emi with MKB (2005/ 5/18)
Niji no Hashi(Rainbow Bridge) (2007/ 5/16)
ASIAN Ver

Camomile extra (2002)
Lullaby of Camomile Live in Singapore (2005)
Camomile PLUS (2006)
DVD

Camomile extra (2002)
Lullaby of Camomile Live in Singapore (2005)
Lullaby of Camomile Live In Hong Kong (2006)